For the new year we all have made resolutions, yes, practically everyone wants to eat healthy and make healthier choices in food; for various reasons – some want to lose weight and others simply want to be fitter and adapt a healthier lifestyle.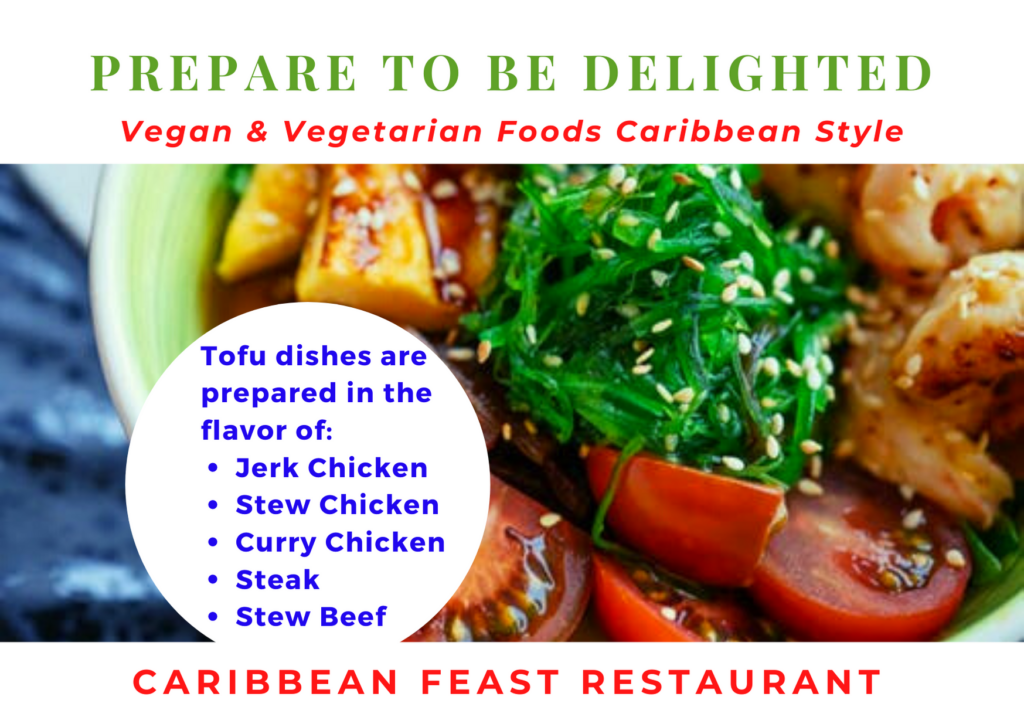 There are various options, you may decide to drop some meat from your diet, or you may drop meat completely. Whatever your choice is, this is a resolution you can ACTUALLY keep effortlessly, no sweat, no worries… thanks to Caribbean Feast!!! I will tell you why in a bit, keep reading!!
Tofu is a great option, it contains no traces of animal products of any kind – it is a pure organic food that supplies a wealth of nutritive value in a variety of ways.
Tofu has a very low-calorie count, which makes it an attractive option for anyone who wants to lose weight. It contains a very small amount of fat, but a large amount of protein. It also has very low levels of sodium and almost no cholesterol. In terms of vitamins and minerals, it is a rich source of iron, magnesium, copper phosphorous, and it also has good amounts of calcium and potassium.
If you chose any of the above options, there is no need to stress, it does not need to be "painful," especially if you are a lover of flavorful, delectable and tasty food.
Early last year, I added a variation of Vegan dishes to our menu, and it has been the greatest thing Caribbean Feast has done, in term of how fast it had taken off.
Our Tofu dishes are cooked "Caribbean Style." Tofu dishes are prepared in the flavor of Jerk, Stew and Curry Chicken, Steak and Stew Beef. We have customers driving all the way from New Jersey and Delaware just for these dishes. These vegan dishes are so flavorful and "meaty" that our vegan customers do a double-take after eating and repeatedly ask "are you sure this is not meat?" Absolutely no meat.
This is one of the greatest line of dishes I have created and added to our menu. Our vegan and vegetarian customers can now pleasure their "meaty" taste bud, … Caribbean style, without having the meat!! These vegan dishes are topped off with one of our many natural juices.
As I said before, this year resolution, no sweat and no worries… we got you… see you soon!!
Sign – Howard Foreman